---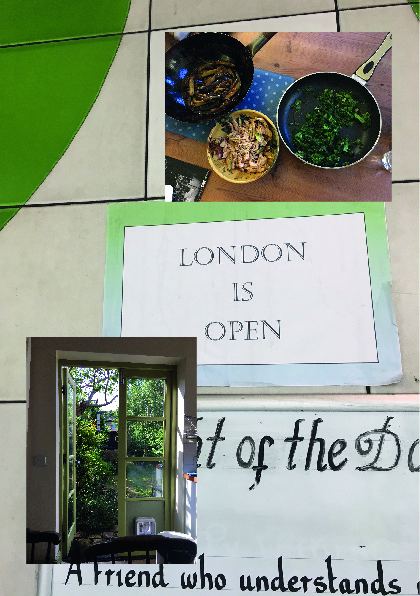 D: how do you feel back to London?
J: I miss it so much when I am not here. But now, some uncomfortable and hateful memories come out.
When I was walking around, I said to D; I want to paint. D refers to knows that what I suffer because we were neighbor at school, she knew I was trying and saw the result of my failure. I said I want to paint. She looked at me with pity and a firm look, and said: 'you can start paint.'

My body is just like the weather outside, and there is water flowing.


-
After I left, I went to the old place to have coffee. The bad memories along the way appeared again. Every day, I always starving, I felt cold every day, the ground was wet, I had to take a long time to go anyplace, and I don't like the smell of people, the smell of smoke from people, etc. I don't like it very much.

At the same time, I remembered and D said why I couldn't paint because I used to keep a distance from people. This distance makes me superficial. It is difficult for me to understand others and what is trying to get in. But now I don't want to think so much, just follow intuition, remove the fear and do it directly.

When I left, I was delighted to see her. Although the studio became colder and colder, it was great to know thunder has stopped.


29 May
I wake up very early today, about six o'clock, and then have breakfast with L. She said: It's great to have you here, you can accompany me for breakfast; otherwise I am usually alone.

When she said these words, it reminded me of some lonely pictures in London. I didn't feel lonely at the time. It seems entirely alone now.

For example, I like to walk through many lanes quickly, shop quickly, and finish soon. If someone follows, I will feel inconvenienced. But this habit has now changed.
I can accept people's company. As she said today, I am delighted to have breakfast with her.


30 MAY



I also think that her personality has changed a lot and is brighter. Although she is as impatient and impulsive as before, she is now more active, and her emotions are all on her face. I like it. She made much food, and let me taste her homemade sauce, great! Although she loves to laugh at me like a fashion person, my body, clothes or something, she is the only one who says that I will not be angry but laugh.

We talked a lot about the conversations that are important to me:

For example, when we talked about participating in the discussion because she always showed understand nothing, so everyone perceived her as a fool. However, in fact, she is brilliant. She skipped the surface of things directly to the core. For example, the last time she joined a conversation with many artists and experts. The theme is: What is the good part of art that affects you? She thinks this topic is stupid, how can there be a difference between good and bad? What made her even more unbearable was that these people started talking in ancient times, certain factions, etc. She was suddenly very excited and wanted to speak, but she endured it.

She asked me: 'If you were there, what would you say?'

I said: 'I wouldn't say a word because I would think they don't need my point of view.'

It is a process that overthinks, so after several exchanges of ideas, we unanimously decided that the next time we encounter such a situation, we will use it as practice, and calmly say what we want to say.

We talked about satisfaction again. I said that there are three moments in my life that I met, all related to art.

She said: Is it true that you are satisfied? I know that many people will say that they are convinced to hypnotize themselves.

I stunned and thought of other things; she is right for something I was going through of my life choice.

However, I continue to say: The satisfaction with art is from the feeling of my body, my whole body thrilled, and very happy. She said that she got this feeling once a long time ago, but it was difficult later. I have the same awareness.

After leaving the Purfleet, I still stayed in the conversation with her.


6 June



01
Today's state is bizarre. I always thought it was a hot-cold, but it was hay fever. I was not very comfortable and thought of many things that I didn't like, went to a meeting that I didn't like, talked about a few awkward phone calls, and then just wanted to listen to music and daze all day, and sure enough, nothing happened today.


02
I am thinking, and I am indeed an awkward person, although it seems that I can say anything, what I want to say is painful to export, so lazy, do not feel that it is useful to say it. However, people who are close to each other still have to say. Otherwise, I will decide everything according to my imagination.

However, how do you export? Every time I see the characters in TV and movies, I can slowly speak out and express my emotions. When I say a certain point, I will be full of tears or temper, I will be very envious, because when I want to say something, the words haven't exported, and the emotions have been overwhelmed. It is very common that I will cry out first, and then I don't want to say anything.

Today I tried to express that I don't like fake people. I have to do the surface; I mean the things that I can choose. I don't want people approaching me with sympathy, compassion, and guilty. These definitions with imagination or preconceived make me angry, so when I smell a little possibility, which makes me uncomfortable.
However, I have to say.

(I didn't want to get anything from you, you can go anywhere at any time)

I don't want to go; I only do that with you. It's just like being on intimate terms with someone. It's crucial for me to practice what I say in my heart because I am too lazy, so many things are too indifferent, maybe it's very tight for me to care really. I only care about a small number of people.

A always said that the way I handle things, it would be perfect for those who don't care, but violence for those who care. I also get hurt at the same time.

03
When I got home, I started to sort out the kitchen. The kitchen that nobody cares about became greasy and disgusting. I bought a rag and began to dry the dishes, homing, cleaning the sink, and gas stove. This series of movements made me feel at ease. It has gradually eased. Suddenly I didn't know what to do. Fortunately, He was still online. I asked him a question. Did he say: why not?
Inexplicably, I got a little redemption.

Although I didn't go on the pilgrimage road, I didn't fall. I remembered that day, L said, "He is too depressed, so he has been falling, falling, falling" with gestures, and I followed her fingers to the ground.


7 June



01
Last night, I couldn't sleep well for hay fever. The nasal congestion was uncomfortable. I woke up and decided to buy medicine. However, before that, I ran to a nearby coffee shop. I like here very much. I used to come here every day, so the points card exchange a free coffee. Just like the discount card used in the UK, I keep it. I can get a discount every time I come back. Feels great.
Then went to the print shop, went to the post office to do something, the weather is still the same today, very sunny and a bit cold, a bit hot, but my eyes are itchy, my nose is itchy, my throat is a little painful.


02
ARCADE has a fascinating group exhibition called 'A Forest.' The participating artists are all exhibited at ARCADE. There are two people I like, like ANNA BARHAM, she is very poetic, I have a book and bring back to Taiwan. I only keep a few artists' books with me.

After I entered the ARCADE, when I first wrote in the signature book, a man came out of the office and said a little annoyed: ' Why is there no sound? 'So he adjusted the line, and the house was full of sound frogs, and I laughed. Initially, this work is from ANNA BARHAM; she said that the voice she recorded is from cicada, this is not a frog, it is an insect, but few people can see it, usually only hear the sound. Because it is not easy to find, the way, she shows cicada/forest is to put a sound.

Straightforward ideas, related to the forest, compared to the practice she has always been interested in, so I liked it.
Another artist I also pay particular attention to is Peggy Franck. I can't express my love for her in words. Her crazy collages, installations, and performances are very close to my heart. She transferred the collected stone images to the carpet this time, and I am not really into it.

The idea of the exhibition is also accompanied by a song.
'A Forest' The Cure.


8 June


I went to the nearby flea market, and when I went in, I saw the poster of DIY market. I felt that this time I came back and walked under the DIY system. Wonderful. I liked its graphic design then pick up one. I took a poster into the book.

The weather was too hot. I went to the nearby bus stop No. 38 and jumped into the car. It was as hot as fire, and I just wanted to go home. Then I told him that I am not too fond of tattoos on myself because the colors are ugly and it doesn't match the skin colour at all. There is another reason; I usually change the principle every once in a while. I am very floating. It is difficult to find a constant pattern and text in such a personality. I don't even know how long I will stay with my name.
After got home, I started working until I was tired.
The chicken doner bought for dinner is disgusting.


10 June



I moved today to another friends house. They just left London for a few days, and they were very generous to lend me the entire apartment. This is also the time I feel relaxed after I came to London. Her house is so comfortable which inspire me to have my own home. In the process of moving, I only need to take bus No. 242 to get there. It is very smooth for me who hates carrying luggage.

After I left my luggage, I ran to the Botany Shop near the house and bought a cup. I take many cups this time. I love ceramics.


14 June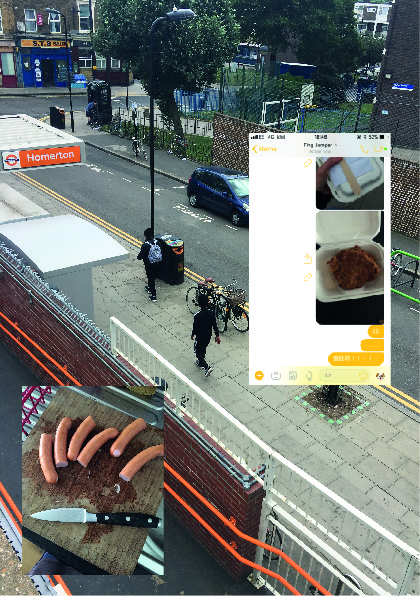 M: Why did you leave London? Don't want to come back?
J: Oh...because I was very depressed at the time, there were many reasons, no proper opportunity, I couldn't paint well, too cold winters, etc. Every winter, my hands, and feet are frozen into the black because too cold. But maybe I will come back for painting soon.

M: Are you lining up for ACME?
J: Haha is probably.
M: keep painting.
J: How?
M: Practice.


15 June


The mood of today is more complicated than before as long as contact with people. I am so easy to get influenced by friends, maybe I am too dependent on them.

There are often negative thoughts of destruction. At this time, I will imagine it, don't cover it up, then let it sink to the bottom, take a deep breath, and the spirit will slowly return to balance.

What consequences, right and wrong, morality, and embarrassment do not exist at this time, I am pure evil. I can only say that this moment is crucial.


18 June



I want to talk about SPACE, I always think it is mysterious because writing emails are rarely replied, but I can't say that it is not doing well. At the very least, the website is my favorite type. It can be noted that this is the best studio website in the world (which is limited to vision). Every time I open it, I like it. Of course, their choose for the artist exhibition, work photo or something All is excellent, not the kind of artificial, there is a degree beyond ordinary. Yesterday I found out that they have a project working on is very good for helping artists to integrate into society and work.


19 June




On the last day, I chose to walk around in Holborn because I felt very deeply about this place, especially when I was walking in the ring, suddenly a clear image jumped in. When I was twenty-seven, why would I remember so clearly? Because it was a rare panic moment in my life, I felt that I was afraid of nothing. I thought that my parents were getting ready to get married at this age. What am I doing? As a result, after almost ten years, I have also walked in this ring with no change. I feel very relaxed. I don't need to scare myself.

Finally, I want to use a paragraph that Joonhong told me for a summary. He said that everyone would feel pain and loneliness, so we choose to use creation to reduce that loneliness. Then he said: You are the only one who can overcome your pain.

I said that I want to cry, he said why not? So I weep for a few minutes with his encouragement. Afterward, I felt more comfortable and chicer.







---